Price

RM243.88

Product SKU
DRML@3000-15@14686
Brand
DREMEL
Size (L x W x H)
50 cm x 30 cm x 30 cm
Availability
2 - 3 Days
Description
Highlight
• EZ Twist™ nose cap with wrench for fast accessory changes
• Variable speed for greater versatility
• Tool works with all Dremel rotary tool accessories and attachments, except PL400 and MS400 attachments
• Ball-bearing universal motor—runs cool and smooth under load
Dremel Tools – Dremel Rotary Tool 3000-15
The Dremel 3000-15 includes the Dremel 3000 rotary tool and 15 genuine Dremel accessories, all packed in a convenient bag. This execution is the entry level kit, offering the Dremel 3000 with a small selection of useful accessories.
The Dremel 3000 has a EZ Twist™ nose cap with wrench for fast accessory changes. The Variable speed of Dremel 3000 is starting from 5,000 to 32,000 RPM. Moreover, it can be used with all Dremel rotary tool accessories and most attachments.
• Cool-running ball bearing construction for smooth and quiet operation.
• Replaceable motor brushes extend tool life.
The Dremel 3000-15 is the result of upgrading our most popular rotary tool using user-requested features to improve the tool's design and ergonomics. The tool also features the EZ Twist™ nose cap with an integrated wrench that allows the nose cap to be used as a wrench to tighten accessories and eliminates the need for a separate wrench. A more efficient fan design and side vents provide a cooler running tool making it comfortable for extended periods of use. The tool also features a symmetrical design including a trumpet-shaped nose cap to facilitate a pencil-grip tool hold. The ability to use all existing Dremel rotary tool accessories and most attachments let the 3000 complete a wide range of applications including cutting, grinding, sanding, carving and polishing a variety of materials. The Dremel 3000-15 comes with 15 pcs extra accessories.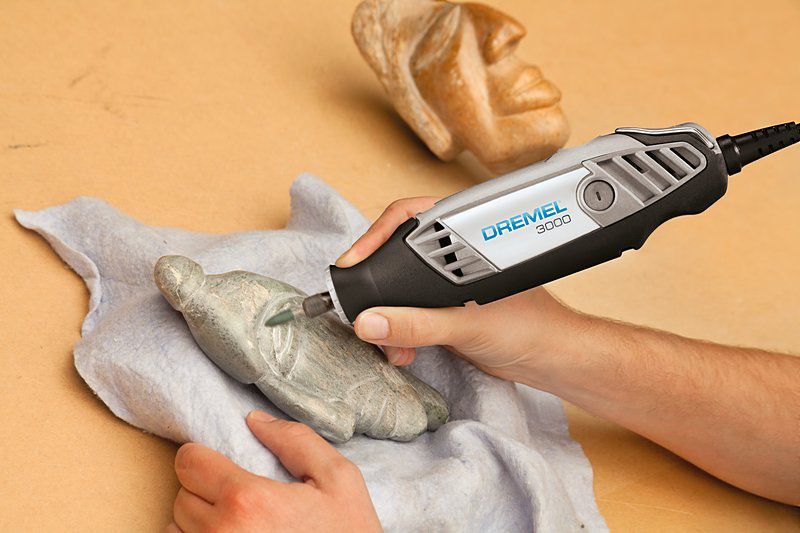 Technical Specifications:
• Rated power input: 130 W
• Voltage: 230 V
• Weight: 0.55 kg
• No load speed: 10,000 – 33,000 1/min
• Battery technology: n.a.
• Speed setting: Variable
• Accessory quick change system: Yes: EZ Twist
Packaging Contents:
• Dremel 3000
• 15 high quality Dremel accessories
• Instruction manual
• Soft bag
Reviews (0)
view all
back
What's in the box
1 x DREMEL 3000-15 Multi-Tool ヨ Quick. Compact. All-round.