Price

RM508.88

Product SKU
DRML@4000-1/45@15927
Brand
DREMEL
Size (L x W x H)
50 cm x 30 cm x 30 cm
Availability
2 - 3 Days
Description
Highlight
• High-performance motor for maximum performance at all speeds
• Electronic feedback for consistent speed under load
• Variable speed for greater versatility
• Can be used with all Dremel rotary tool accessories and attachments
The Dremel 4000 – 1/45 kit includes the high performance 4000 multitool, with innovative features like the EZ Twist nose cap, electronic feedback, collet lock out function and an RPM bandwidth of 5,000 to 35,000. Additionally the kit includes the Flexshaft attachment, which is the ideal attachment for detailed work on hard to reach places. Next to the Flex Shaft attachment the kit includes 45 original Dremel accessories including EZ SpeedClic.
The Dremel 4000 also has a quick collet lock for fast accessory changes. It has cool-running ball bearing construction for smooth and quiet operation. Most important, the Dremel 4000 has replaceable motor brushes extend tool life.
The Dremel 4000 variable speed rotary tool offers the highest performance and most versatility of all Dremel rotary tools. The increased strength of its motor plus electronic feedback circuitry enables consistent performance at all speed levels. Dremel 4000 can use all existing Dremel rotary tool accessories and attachments plus high-performance attachments to complete the widest range of projects. A slim, ergonomic body provides a 360-degree grip zone for comfort and control in any grip position. The Dremel 4000 – 1/45 comes with extra 45pcs accessories.
Technical Specifications:
• Rated power input: 175 W
• Voltage: 230 V
• Weight: 0.66 kg
• Length: 22 cm
• No load speed: 5,000 – 35,000 1/min
• Battery technology: n.a.
• Speed setting: Fully Variable
• Accessory quick change system: Yes: EZ Twist
• Sound pressure: 77.9 dB(A)
• Sound power: 88.9 dB(A)
• Vibration: 2.6 – 11.4 m/s²
Packaging Contents:
• Dremel 4000
• 45 high quality Dremel accessories (including EZ SpeedClic starter set)
• High quality Flex Shaft
• Instruction manual
• Soft bag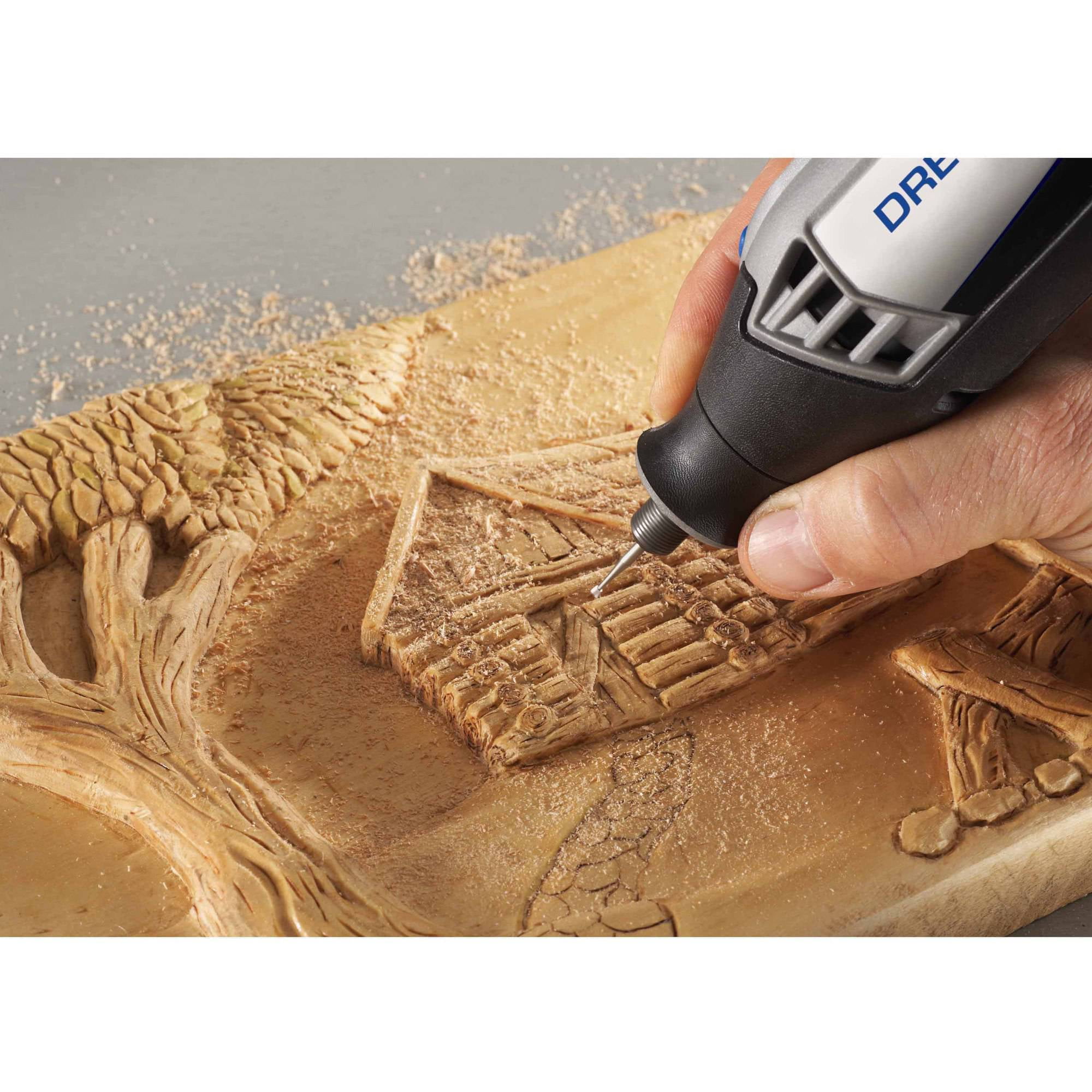 Reviews (0)
view all
back
What's in the box
1 x DREMEL 4000-1/45 Dremel Rotary Tool 4000 ヨ 1/45